BPSC or The Bihar Public Service Commission has released the Notification (BPSC 68 Notification) of BPSC 68th Examination. The Notification is for 324 seats as for now. BPSC 68 Prelims is scheduled to be held on February 12, 2022 (Sunday) as per the official calendar released by BPSC. It is also a good opportunity for aspirants who have not made it to the BPSC 67. The candidates can download the notification and apply on the official website of BPSC which is bpsc.bih.nic.in. Direct link to download the notification is provided in this Article. The Start Date of Applying Online is 25/11/2022 and the Last Date to Apply Online is 30/12/2022.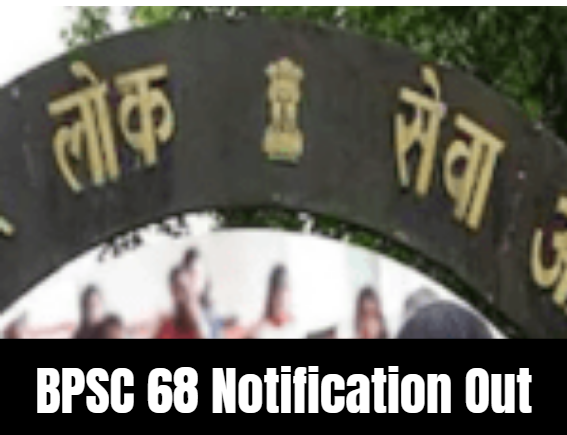 Total Posts in BPSC 68
The Total Post in BPSC 68 is 324 as of now. Following is the list of posts in BPSC 68:
BPSC has added 43 more vacancies on January 5, 2023 which makes the total vacancy 324 as of now. The added vacancies are of Sahayak Aapada Prabandhan Padadhkari which is a gazetted post and it is a level 8 post.
Age Limit for BPSC 68
The age is calculated as on Date August 1, 2022. The minimum age limit as per different Posts are 20, 21 and 22 years (Refer the post lists above). The Maximum Age limit is as follows:
| | |
| --- | --- |
| Category | Maximum Age Limit |
| Unreserved (Male) | 37 Years |
| Unreserved (Female) | 40 Years |
| BC | 40 Years |
| EBC | 40 Years |
| SC | 42 Years |
| ST | 42 Years |
The age should be as per Matriulation Record of the Candidate.
Educational Qualification of BPSC 68
On the last date of filling of Online Application, the candidates are required to have the following educational qualification:
For serial no. 1 to 21 (Except Sr. No. 3) in the above given posts list the educational qualification is pass in Graduation or equivalent exam from a recognised University.
For Sr. No. 3 Post i.e. District Firefighting Officer or Jila Agneeshaman Padadhikari, educational qualification is pass in Graduation in Science Faculty or Vigyan Sankay from a recognised University or Graduate in Fire Engineering or Graduate in Yantriki/ Automobile Engineering. Kindly refer to the official notification for more details on educational qualification.
Total Number of Attempts
The Limit for total number of attempts i.e. how many times a candidate can sit in this examination has been Unlimited which means a candidate can sit in the exams every-time it is conducted till the candidate's age becomes Maximum. It can be concluded that a candidate can sit until he attains Maximum Age Limit Criteria. There is no limit for the number of attempts.
However, for Government Servants number of attempts has been limited to 3 times as per letter no. 524 of General Administration Department dated January 13, 2022. Also, as per memorandum 2374 of General Administration Department dated July 16, 2022 and letter no. 13107 dated September 20, 2019 for the Permanent Government Servants of Government of Bihar to secure a seat in higher level of Pay, such type of candidates will be given 5 years age relaxation in Upper age limit after doing 3 years of service in the Government Job.
Also, as per media reports recently, Bihar Cabinet led by the Chief Minister Nitish Kumar has decided on the issue of total number of attempts to be given to the Govt. Servants. You are requested to follow the official website of bpsc in this regard for any changes made.
Introduction of Negative Marking in BPSC 68
Negative marking is going to be introduced in BPSC 68. The commission this time is giving options to the Candidates to choose one among three following scheme of negative marking:
Negative Marking on limited number of questions to be selected proportionately from all sections as per the difficulty level of the questions. For example if one third i.e. 50 out of total 150 questions are selected for Negative Marking then 1/3rd questions from each section will be selected for negative marking. These questions will have 2 marks for correct option and minus 1/2 for wrong ones.
The second option is same as the first option but in the second option only the negative marking scheme is changed i.e. for every correct answer 1 mark will be awarded and for every wrong answer minus 1/4 mark will be deducted.
The third choice is negative marking applicable on all the 150 questions i.e. 1 mark for each correct answer and minus 1/4 for every wrong answer.
These are the given options from which candidates have to chose one option while filling the application form online. The commission has stated that to consider it or not is the prerogative of the commission.
Update: BPSC has notified about the negative marking in BPSC 68 Prelims recently, and stated that majority of candidates have opted for the 3rd option that is given below.
Negative marking should be uniformly on all the 150 questions. In this case, there will be 1 mark for correct answer and -1/4 for wrong answer.
Therefore, now it is clear that negative marking is going to be there in BPSC 68 and the way in which it will be applied is given in the above statement. So, candidates should prepare and attempt the paper accordingly.
Important Dates of BPSC 68
| | |
| --- | --- |
| Online Application Start Date | November 25, 2022 |
| Online Application End Date | December 30, 2022 |
Application Fee for BPSC 68
| | |
| --- | --- |
| Category | Fee |
| General | Rs. 600/- |
| SC/ST of Bihar State | Rs. 150/- |
| Female Permanent Resident of Bihar | Rs. 150/- |
| For Divyang (more than 40%) candidates | Rs. 150/- |
| For all other Candidates | Rs. 600/- |
Before filling the application fee you are advised to read the official notification of BPSC 68 on its official website bpsc.bih.nic.in.
BPSC 68 Notification Download
BPSC Admit Card 2023
BPSC 68 Admit Card 2023 is going to be released before the BPSC 68 Prelims examination. It has been seen that BPSC releases the Admit Card approximately 10 days prior to the preliminary exam. The admit Card once released by the commission can be downloaded from its official website bpsc.bih.nic.in by filling in your basic details.
How to Fill BPSC 68 Form Online
Click the following to know how to fill the form of BPSC 68:
BPSC Form How to Fill Online- BPSC का फॉर्म ऑनलाइन कैसे भरें
BPSC Number of Attempts Web Story
Read More:
Read about BPSC 68 Bihar Important Facts